You may have been told that sex is 'something a man and woman do when they love each other very much,' but we're guessing that somewhere in your teens you discovered that definition definitely doesn't cover the width and breadth of sensual activity.  
Sex, for being such an (almost) universal experience, is something you'd think we're all able to define pretty easily – yet ask someone and you'd be surprised at not only how different our definitions are, but also how easily they may fall apart.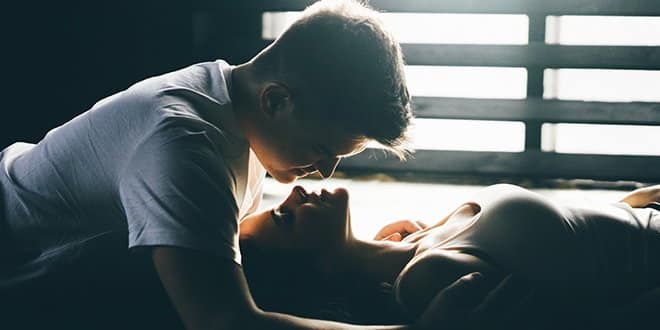 More than Biology
Sex has a very clear definition in biology – it's how reproduction occurs. However, clearly even not every heterosexual amorous coupling can result in pregnancy. Infertility issues aside, we know that couples in their 60s and beyond still have sex lives that keep going strong long after havings kids is a possibility, so we can discount that particular definition right off the bat.
And yes, while orgasms are a (great) physiological response – they're certainly not part of every sexual encounter – and treating them as the end(ing) goal might not be the key to enjoying yourself that it seems.
Letting Go of Labels
Most straight people would quickly agree that sex doesn't exclusively refer to a penis-in-a-vagina; after all, there's also anal sex. Then of course, there's oral sex―some people don't consider that 'really sex,' maybe because there's not penetration. But even fewer of those same people would consider manually stimulating a vagina to be 'sex,' but that does includes penetration.
The fixation on penile penetration for what constitutes sex poses a real issue  – not only does exclude large swathes of the population that doesn't sexual contact with penises at all, it  also leads to ignorance and misinformation about safer sexual practices. Recent research suggests that a majority of lesbian and bi female teens had no idea they could get an STI from another girl.[i]
Pretty hard to get a sexually transmitted infection if you 'weren't really having sex,' right?
Your Sex Life, Your Definition
Obviously 'sex' will mean different things to different people – based on physiology, orientation, and, whether we like it or not, societal influences.
However the definition we choose to espouse is this: sex is erotic stimulation – be it mental or physical – that can be solo or partnered, to cause pleasure.
This is just our definition though – we'd love to hear yours in the comments!
[i] https://www.vice.com/en_us/article/j5vaxb/many-teen-girls-dont-know-they-can-get-an-sti-from-other-girls
The post What is 'Sex'? appeared first on Volonté.