We Want to Wish You a VERY Happy International Sex Toy Day!
When you're the biggest name in pleasure, celebrating International Sex Toy Day is a no brainer – but how best make sure that your November 4th makes a splash?
Why, just try an INA Wave of course.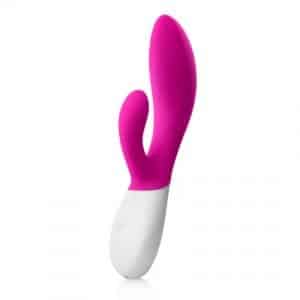 INA Wave is the only rabbit-style vibrator in the world that is able to mimic the sensation of your partner's fingers by rising and falling against your G-spot while simultaneously delivering powerful vibrations inside and out — equaling a blended orgasm like nothing you've ever felt before!
If you're already a rabbit-addict but not sure if INA Wave's unique sensations are right for you, just check out this quote from Volonté's own anonymous, first-hand review:
It was not quite like anything I had felt before, just the perfect level of slow and regular pressure on my G-spot. I felt like I could feel the sensation through to my clitoris, which  made it feel all the more like the sensation inside and outside were actually joined together.
Now that we've piqued your interest, head on over to the INA Wave product page on November 4th to save 20% — and then have yourself a VERY happy International Sex Toy Day!
The post We Want to Wish You a VERY Happy International Sex Toy Day! appeared first on Volonté.