The 10 Most Common Thoughts People Have When They Get Back Into Dating
When you're on the heels of a relationship, sometimes it can be hard to put yourself back out there. The thought of even going out to meet new people can feel overwhelming especially if you're just getting over your last relationship. Don't panic. When you start to feel ready with getting your feet wet in the dating pool again, remember we've all been, there especially in terms of those post-break thought patterns. Here are ten of the most common things people think when they get back into dating after a long-term relationship.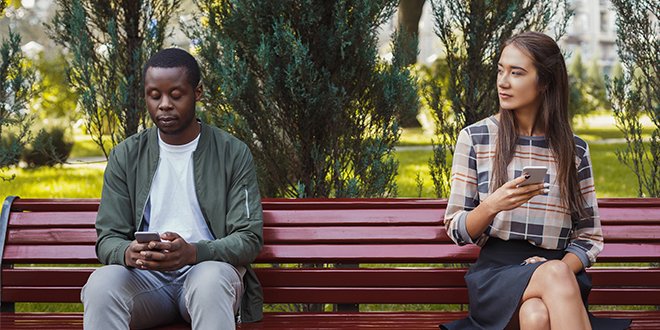 1.Am I Ready for This?
If you're fresh out of a relationship, one of the first things that may occur to you is–'Am I ready for this?' Although it can be hard to start to move on, it will help you in the long run. It's healthy to give yourself time to heal after a break-up, but only you can decide when you're ready to get back into the swing of things.
2.Will I Make the Same Mistakes?
Breakups are tough. Even if you end on an amicable note, they are still hard to endure. When you go through one, it's normal to wonder, 'Will I make the same mistakes again?' There's no sure way to know if you will, but if you are aware of a pattern of behavior that was an issue in a previous relationship, and you make an effort to deal with it in a way you see fit, odds are you won't. Remember, you have the power to change.
3.I'm Not Good Enough
This thought can cloud your mind for weeks after a break-up. A break-up makes you question your self-worth and how lovable you are. Put those negative thoughts to the side. You are worthy of love and a relationship and no one can take that away from you or decide that for you.
4.'You Were Always on My Mind'
It's almost a guarantee when you're going through the process of ending a relationship, your ex will be on your mind – a lot. A certain song, meal, even watching a movie, might trigger a memory for you. You are mourning a loss, and it's a process. You need to let yourself feel your feelings, and eventually, those will pass, but don't let it consumes you.
5.Will I Ever Meet the Right Person?
When you're fresh out of a breakup, you may also be thinking will you never meet the right person. It might even be hard to imagine yourself in another relationship. All of that is completely normal, and it will take time to get you feeling 100% like yourself again. Remember, it's not a race. When you're ready for it both emotionally and mentally, you will start to date again, and hopefully, find the 'right' person for you.
6.Do I Date the Same Version of the Person?
It's normal to question choices you made in your previous relationship – a major one being the person you dated. Sometimes you may even wonder if you date the same person. If you think there may be something to do that, try to evaluate it, and see if there is really a pattern. If you think there may be, talk it out with friends. Share your observation, if you think its a bigger issue, maybe it's time to consult a professional therapist or psychologist who can help give you tips to break the habit.
7.How Can I Start to Take Better Care of Myself?
It can be easy to stay in sweats, have that extra slice of pizza, and stay in bed and hide from the world. Try to set tiny goals for yourself when you're going through this tough time. Whether it's making an effort to meet up with friends you've been blowing off, treating yourself to a movie, or special dinner, do things that make you feel good. You have to decide what you need during this time, and only you can determine what that way is and what's best for you.
8.How do I Start Making the 'Right' Choices for Myself?
Breakups can put you through the ringer emotionally and mentally. They can also make you question everything around you. They can also take a physical toll on you if you're not taking care of yourself properly. It's important to eat right, get enough rest, exercise, and surround yourself with supportive people.
9.What are my Dealbreakers?
After some time has passed, and you will  start to gain a fresh perspective on your situation. With this newfound clarity, you can also decide what some of your deal breakers are for a relationship going forward. Maybe you have strong religious or political views, aren't a drinker or smoker, are ok with open relationships, or are not,  or are vegan or vegetarian. Things like these can be the root of issues in future relationships, so if you are clear about your deal breakers, this can better inform your dating life in the future.
10.What do I Want Next?
When you start feeling ready to go out and meet new people, what you want next will be another thing to keep in mind. Jumping from one relationship to the next is never a great idea. It's good to give yourself space to recoup and find out who you are again as a single person, it can help you rediscover things about who you are, and this can also help you get a clearer idea of what you may want going forward and the kind of relationship you're after.
The post The 10 Most Common Thoughts People Have When They Get Back Into Dating appeared first on Volonté.