Review Roundup: TOR 2 Couples' Ring
Couples' rings – also known as cock rings – are a restrictive, vibrating device that can add to shared pleasure, but did you know they can also be used solo? Anyway you choose to enjoy it, the rechargeable and waterproof TOR 2 adds an extra OOMPH – just check out these rave reviews!
MEN'S TOY HUB
Introducing Lelo TOR 2 Vibrating Cock Ring
"Keeping this short and sweet: [TOR 2] felt like an amazing threesome without all the awkward position changing. Someone was always holding onto our dicks to keep it standing at attention while we pounded away[.]"
"It is made to have a lifespan equal to or greater than 10,000 disposable rings, so it's worth the money for sure."
Click to read more of this TOR 2 review.
EMMELINE PEACHES
Toy Review: The Lelo Tor 2
"There's a certain simplicity to the Tor 2 that is as elegant as it is ingenious. This toy offers understated class and implies practicality through its straightforward design. With the Lelo Tor 2 you know exactly what you're going to get—a luxury couples ring. The Tor 2 offers this up visually while also obliging in terms of execution, making it a great purchase for those looking to give a gift to their partner that they can enjoy as a couple"
"For him the Lelo Tor 2 feels like a tighter fit than some of his other couples rings and this helps him feel larger and enjoy stronger sensations. This snug and secure fit also put him at complete ease, allowing him to enjoy our experiences together rather than worrying about the bulk or movement of the ring during. The vibrations made a notable difference for him and provided very strong climaxes. "
Hear more about how much Emmeline (and Mr. Peaches) loved TOR 2!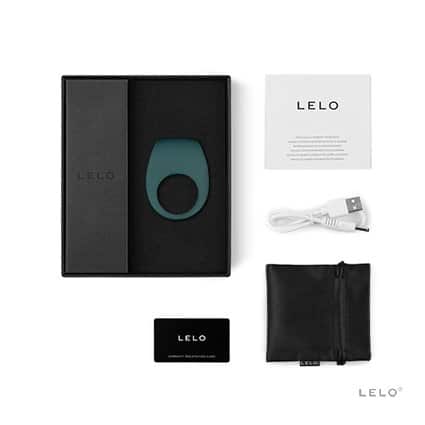 XTRA CURRICULAR
Review: LELO TOR 2
"I could see the bulging of the veins and the constriction really working – wow! He laid against me to tease and his whole length was vibrating! And when he was inside it really did it's job!"
"The vibrations of this cock ring are very powerful and enjoyable. You can feel each pulse of this cock ring vibrate up along the shaft adding please for both you and her. The vibrating part of the ring presses against her cliterous during sex, meaning she's getting the best of both worlds."
Read more of this couples' review of TOR 2.
RARELY WEARS LIPSTICK
Review: TOR II by LELO
"The first squeal of delight came when I discovered that my partner's genitals had essentially been turned into a vibrator. This was a rather amusing moment, but it wasn't long before I was keen to see how it felt on something other than my fingers. The initial reaction it received from me upon hitting the spot we intended was rather intense and, if I hadn't first mentioned that this was something we were trying our for a review, I think I would have completely forgotten to test the other settings! "
"If a female partner needs extra stimulation, or a male partner wants to last a bit longer, the TOR 2 would definitely be for you."
Want to see more of this TOR 2 product review?
The post Review Roundup: TOR 2 Couples' Ring appeared first on Volonté.