Have Yourself a Merry LELO Christmas…with 25% Off!
If you're looking forward to making some sweet music together over the holidays, then we have just the sale for you – 25% off the following bestsellers (and more!) that will make you sing fa-la-la-la-la f*ck yes!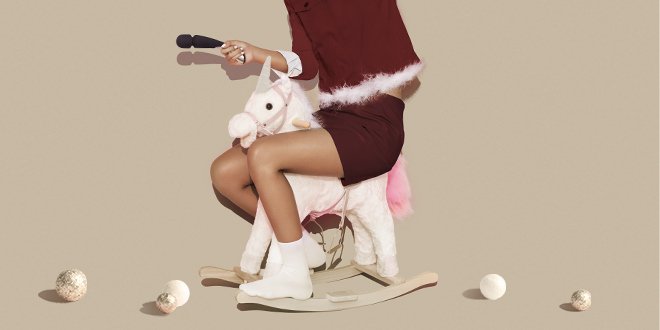 Sexy Stocking Stuffers
MIA 2 – 25% Off
Make the most of the holidays with MIA 2! It's a discreet little treat that looks right at home in a purse thanks to its lipstick-style design, making it perfect for pleasure-seekers who are a little shy or brave enough to explore MIA 2's surprisingly powerful sensations outside the bedroom.
HEX

36 Pack – 25% Off
Nothing says 'I care' better than the superior protection of HEX condoms. With revolutionary design that seeks to ensure safety without sacrificing pleasure, you'll be set for the 12 days of Christmas and then some.
Luna Beads – 25% Off
Available in Original, mini or Noir, Luna Beads do double duty thanks to their unique design. With an internally-weighted ball that swirls with each bead as they're worn, they provide the ultimate slow burn to warm you up for partnered pleasure – and give your pelvic floor muscles a nice little workout!
Give the Gift of a G-Spot Orgasm
INA Wave- 25% Off
Whether you're lucky enough to go on an exotic winter holiday or not, this rabbit-style vibrator has unique WaveMotion

Technology that will have you riding waves of pleasure. In addition to its powerful vibrations, INA Wave has an internal arm that can gentle rise and fall within you like a lover's fingers, bringing you to intense blended orgasm.
GIGI 2- 25% Off
"…As she turned up the vibrations to the highest and slowly rocked me on the GIGI, I had the most intense G-spot orgasm."
If this ringing endorsement of GIGI 2 hasn't convinced you that it is the perfect thing to help your partner (or yourself!) ring in the new year with waves of ecstacy, then just check out its subtly-sculpted tip – GIGI 2 is made expressly for targeting your G-spot (but doesn't do half a bad job as a clitoral vibe either!)
A Penis or Prostate-Pleasin' Present
HUGO– 25% Off
Santa knows what you're really wishing for this Christmas, and HUGO is at the top of everyone's list! It is designed to complement your anatomy and deliver intense sensations to your prostate and perineum – that you can control with a remote control that can vibrate in sync for truly versatile pleasure.
SMART WAND Large– 25% Off
Who doesn't appreciate a back massage after a long day at the office? Uniquely able to increase vibration strength with the level of pressure you use to hold it against your skin, SMART WAND Large is waterproof and perfect for relaxing – as well as turning up the heat when you bring it into the bedroom.
Clit Vibes that Bring Joy to the World
LILY 2 – 25% Off
LELO's original design with upgraded power, LILY 2 is a petite and lightly-scented treat but don't let that fool you! Now waterproof for use in the bath or shower, its big vibrations will have you saying 'Oh, Oh, OH!'
ORA 2 – 25% Off
While the holidays mean a host of treats to tease and delight our tongues, for those who can't get enough of receiving oral pleasure, ORA 2 will make their dreams come true. It can swirl and flick for a better-than-real sensation of oral sex that will last a whole hour on a single charge!
Coming Together for the Holidays
TIANI 2 – 25% Off
Nothing brings us together like Christmas – until TIANI 2, that is! Worn vaginally during partnered penetrative sex, it offers targeted external vibrations that travel through its body to be felt internally by both partners!
TOR 2 – 25% Off
Ready to turn the heat up a notch? Worn on a penis, TOR 2 can be worn above or below to suit different positions and stimulate different part of your and your partner's anatomy – discovering what you both like best is half the fun!
The post Have Yourself a Merry LELO Christmas…with 25% Off! appeared first on Volonté.